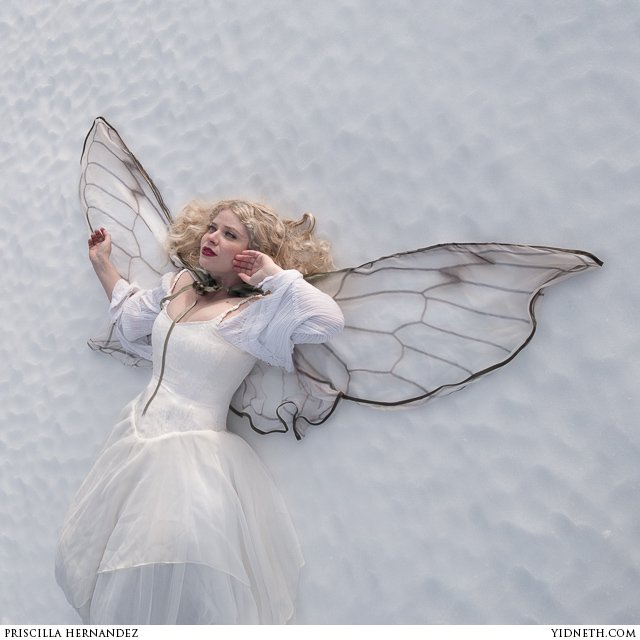 Winter this year was very mild where I live, it has barely snowed a couple of times, so of course I had to go out to do the Wintry photoshoots I had planned when I had the chance. I got an unexpected surprise from my friends, Spanish Fantasy Clothing brand El Costurero Real, this pair of chiffon Cicada Wings. I love them because they remind me to my favourite movie, The Dark Crystal and I intend to do something very geeky with them. But meanwhile and to celebrate the few "late" snowfalls of the season (just when it feels that Spring is on the way) I have had several hikes that I'll be sharing. I also had the chance to finish filming a videoclip that I had started the year prior and finally I was able to film the final sequences (but that for another post or the videoclip premiere)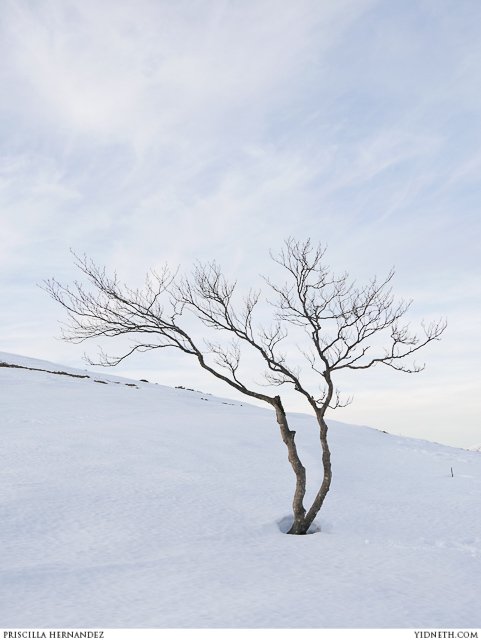 I love untrodden snow… being the first to leave my footprints on it, the thrill of adventure… yes it can also be a metaphor
Show beauty is so transient and ephemeral… as I shared in a previous post I love the fairytale "The Snowbride" who melts when Spring comes. I think it's he most ethereal of seasons, and though Green is usually my colour, Winter cloak me in white, black and greys… I actually think I shift myself with the seasons.
The Location is Ibañeta in Navarre (Spain) by Roncesvalles close to France, truth is that as it snows so scarcely we don't have snowshoes. Going uphill without them proved to be changeling. I am rather short so I was sinking almost up to my waist every step… But I am stubborn and I was determined. By the time I got to the location my boots, socks and feet were freezing and soaking wet to the point I decided to go barefoot for most of the shooting while I left it on a rock to dry under the fleeting warmth of the Winter Sun. In all honest the numbness of my toes was a bit painful hahah 🙂 Other than that the day wasn't that chilly and it was not windy… So I decided to get over the discomfort and get the work done 🙂 as I wanted to take some pictures as courtesy to the designer of the wings with no delay as a courtesy.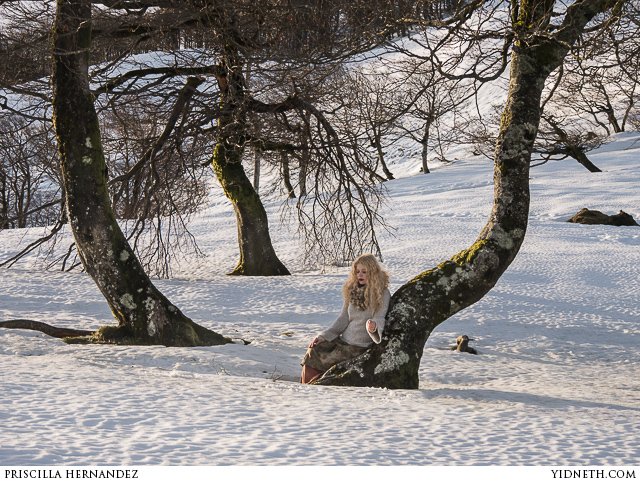 Me pondering if it's a good idea to take off my clothes and get into a corset dress…hmmm Let's go for it.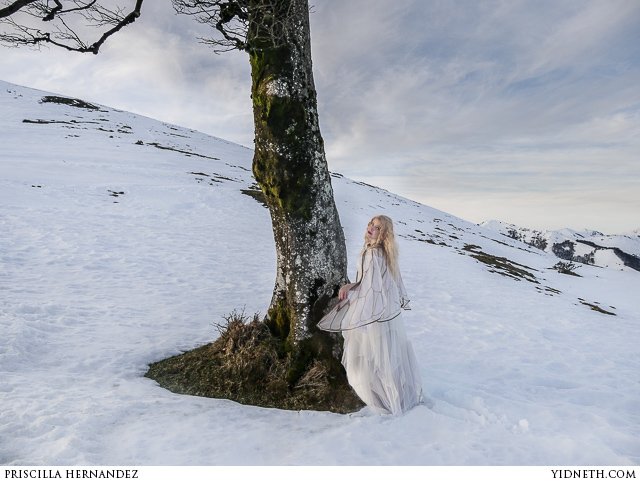 The view was spectacular… do you agree?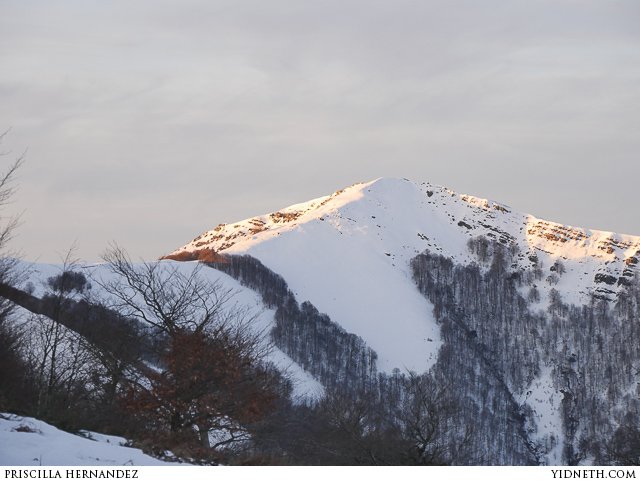 Windswept but still standing
And we go on with metaphors for those caring to read between lines… but I know some of you will understand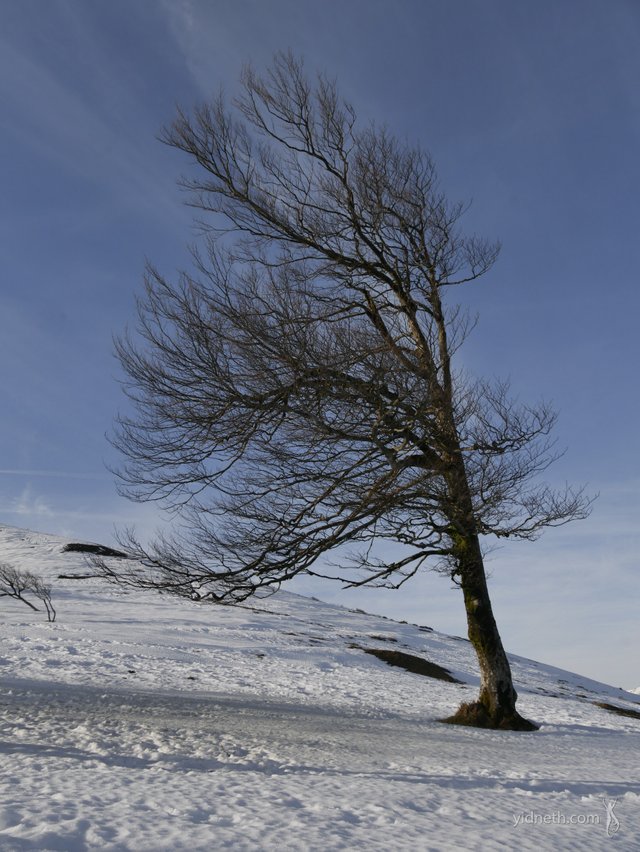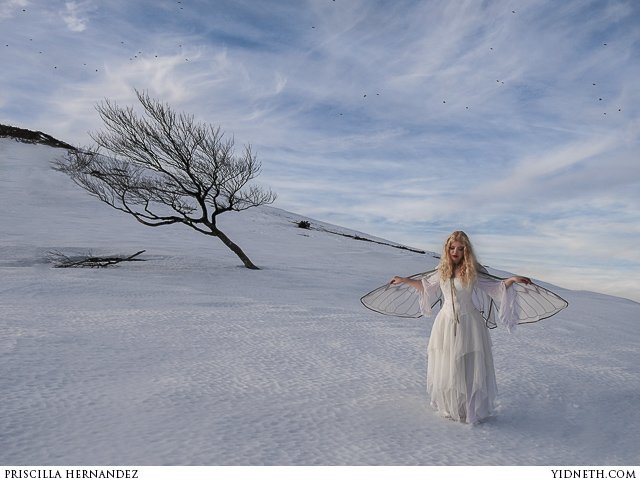 What I loved these trees. Maybe bent and windswept but still standing and that is what matters the most.
Can you spot all the birds flying behind me? It was fancy to capture the flock on flight
There was not much light left so we headed down back to the car… My poor feet endured the walk but though not that long it was indeed uncomfortable. I have noted to bring ALWAYS a dry set of socks in my rucksack. The sunset rays highlighted the textures of the snow.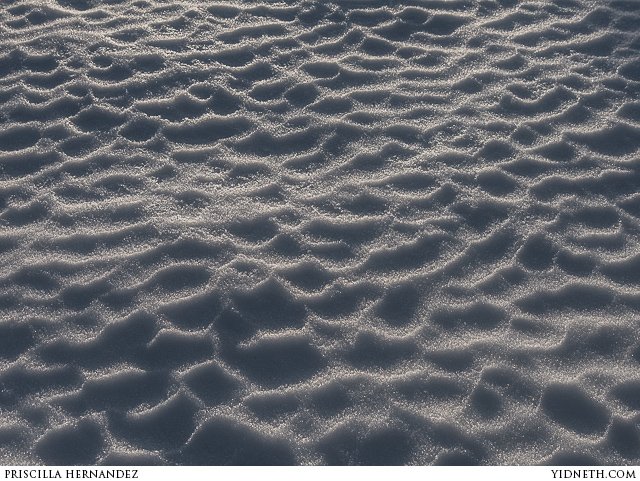 As light got dimmer we urged our way back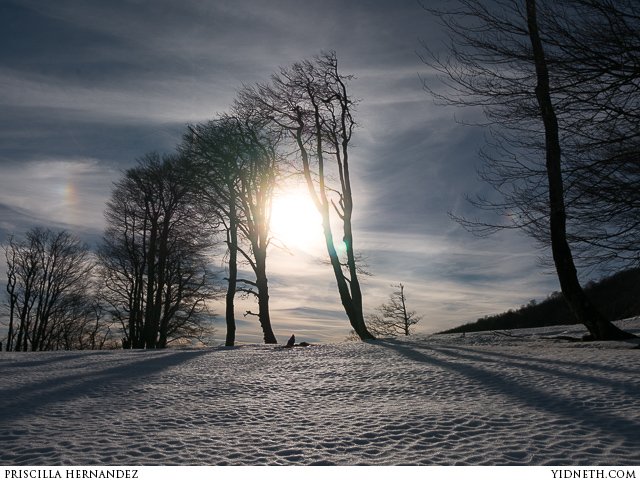 There are several little rainbows in the photo, they were very noticeable with the naked eye, the magic of light
Thanks god hot tea was awaiting in the car :).
Credits
All photos taken in collaboration with @hedac
Wings endorsed by El Costurero Real
Chemise handmade by my friend Kelly Miller Lopez
Dress by The Dark Angel
---
Networks
Priscilla Hernandez
singer-songwriter & illustrator
http://yidneth.com