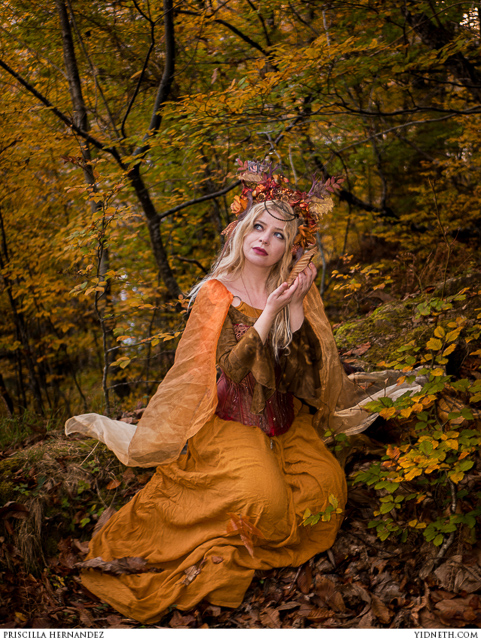 My name is Priscilla Hernandez. I am a composer and singer-songwriter, multi-instrumentalist  and fantasy illustrator from the Canary Islands now based in Navarra(Spain).  My music can be described as "ethereal gothic" inspired in fairy and ghost tales and with a great component of fantasy.

Angelic voices, cinematic soundscapes, bitter and meaningful lullabies. Discover the spectral spellbinding dark side of fairy and ghost tales. Melodies that weave a fantastic and unknown kingdom. The light and shadow, The Ghost and the Fairy and the realm of "The Underliving"
I've written songs all my life but it was a hidden passion till May 2002 when I encouraged myself to upload my first recording track to mp3.com: "I steal the leaves" and later a demo with the same title and other songs.  After collaborating in several projects and decline a wealth of record deals in order to keep the spirit of my work untouched. I released late 2006 my debut album "Ancient shadows" with the help of my fans and listeners and under my own company and label YIDNETH (which is also the name of my trademark, my username in most networks and the title of my illustrated comic book project). My first album achieved several nominations and awards and got hundreds of positive reviews in specialized publications worldwide. Later in 2011 I published my second album "The Underliving"
Since then I've been releasing singles and several collaborations though I am working to fund the release of a music illustrated project called "Fear no More"
I have performed in different countries like USA, UK, Germany and Spain. The visuals of our performances are inspired in worlds of wonder and fantasy, carrying away the audience to a place where Light and Shadow collide, that mysterious place you know from your dreams, wrapped by the sound of heavenly vocals and ancient, exotic instruments. Me and my ensemble of musicians are looking forward to share our magic on stage with you so do not hesitate in contact for booking information.
Visit my Official site at https://yidneth.com