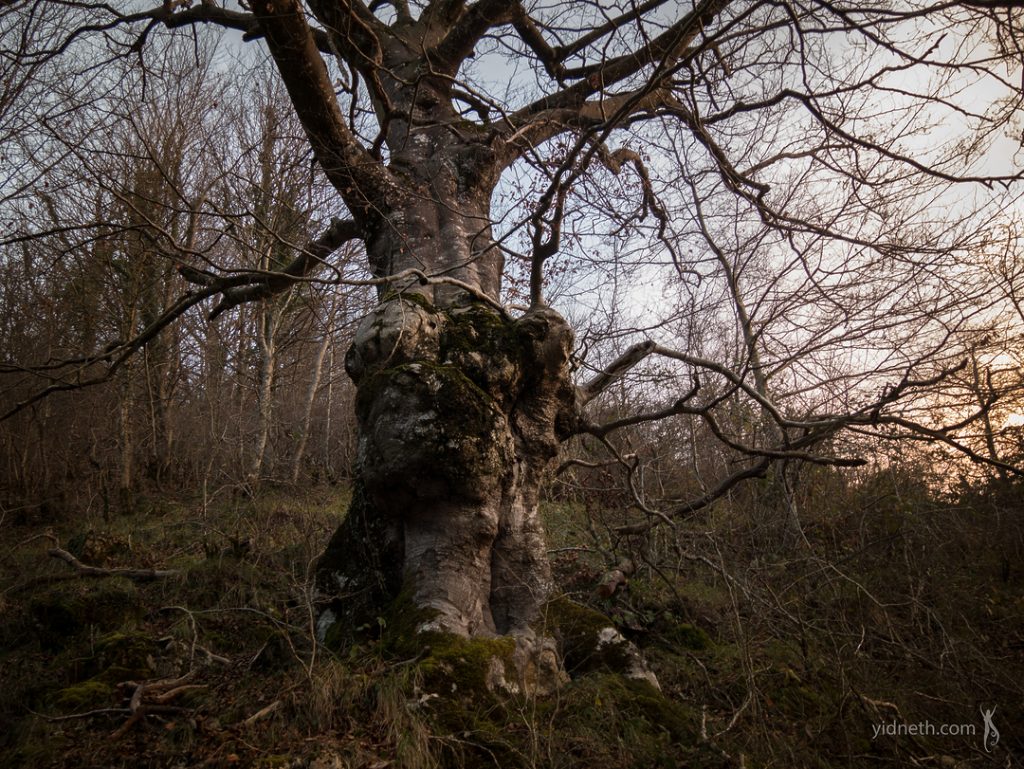 I went hiking yesterday (7th of January). I was intending to reach a cave as suitable filming location for a forthcoming videoclip. Unfortunately I couldn't make it to final location but that I enjoyed the walk through the wintry woods and all through the way I found the most singular trees, mostly gnarled oaks
According to Mythology the term "Dryad" comes from "Dryos" meaning Oak or Tree, and this female minor deities were guardians for the forests, groves and trees in general that they would protect fiercely. Those who were linked to a the life of a particular tree (being born and dying when the tree would perish) would be named with the term Hamadryad (from "together" and "tree") and would have different names depending on the tree to which their existence were tied to. Dryads would have great longevity and would only pass away once the tree they inhabited had died. Fierce protectors and guardians, this wood spirits of shy nature would have shapeshifting powers.
In Roman mythology their counterparts are known as Querquetulanae, or Nymphs of the Oak groves. As we know Quercus is also the Genus the many species of Oak trees belong to, being one of the most popular the European Oak or Quercus Robur (meaning robust Oak).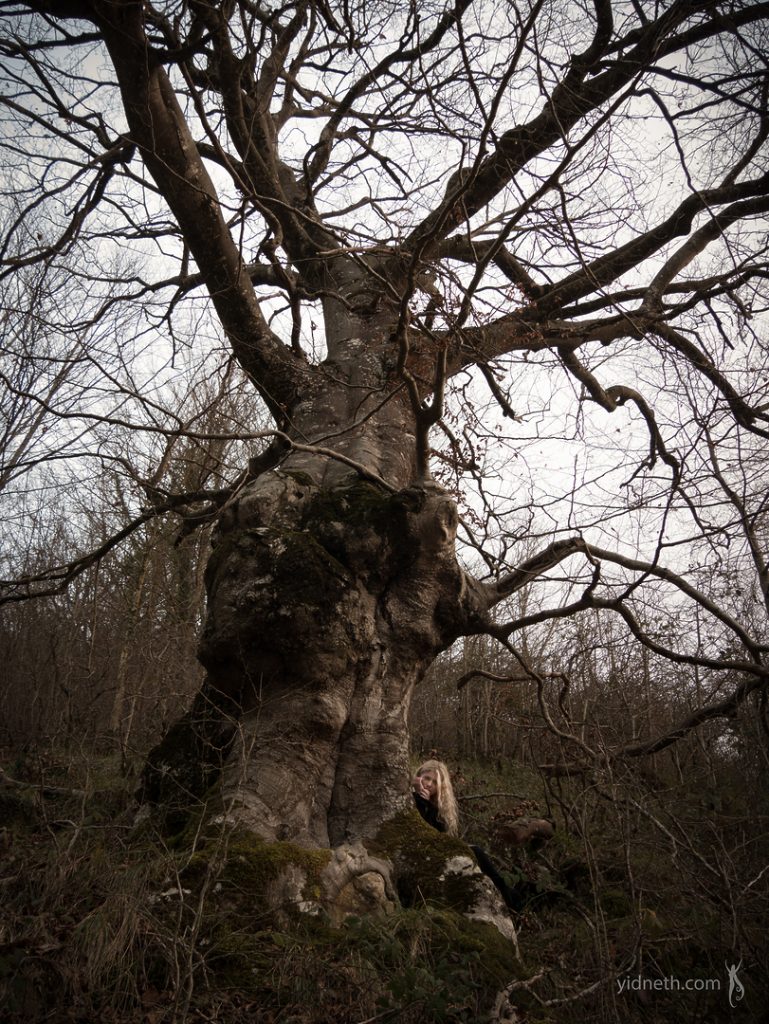 Pareidolia (from from Greek para (see para-) + eidōlon 'image' and"shape'") is when you can find shapes and faces where they are not meant to be, the likeness of a face for example like in the above tree. This phenomena is likely the origin of all this legends that have counterparts in many countries and cultures.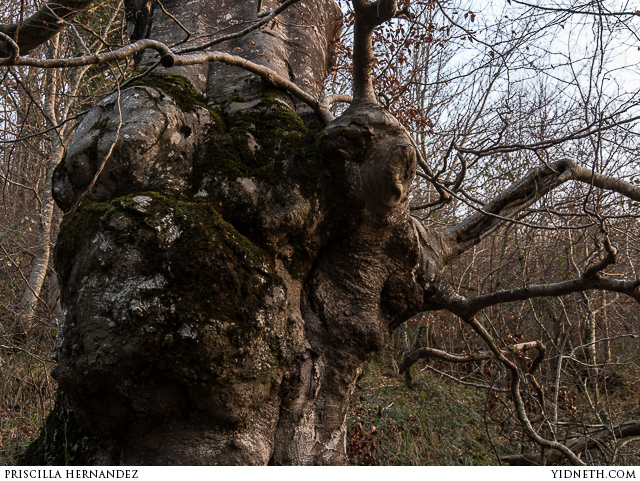 For me staring at this tree yesterday, it was easy to imagine one living it it, curiously it would escape easily the naked eye, but when being photographed there it was clearly, I repeated this several times to my astonishment. I would look a it and I would see many faces, but then through my camera I would see this clear feminine goddess like emerging Dryad from it.
Sadly the oak was close and almost staring to a place where amzingly wide old oaks have been chopped and cut down… it almost looked like a tree cemetery to me. So many seasons, just to lay down and rot :(. The contrast of this regal tree spirit standing with the fungi covered rotting logs was heart breaking. The rings telling the story of a truncated life… Springs and Winters, a memory of a younger world.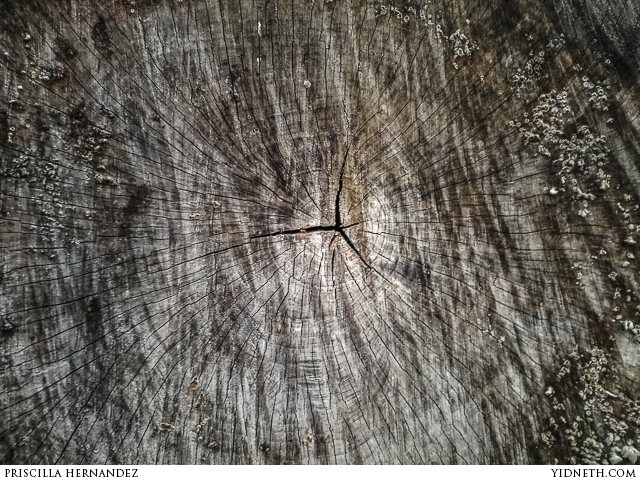 The Druids (from gaelic Duir "Men of the Oaks") used to practise their rites on Oak woods as mistletoe one worshipped plant used to grow on their bark.
In Pennsylvania, America, there is a very ancient Oak called "The Ancient Oak" now over 500 years old. There are Native American legends about it and it became a sacred shrine for Delaware Indians
I have to add that one of my favorite Oaks in the place I live is very old and has a name "Kisulabe". It's indeed a very old and dying tree, but I planted one of its acorns and it's growing. The size of Kisulabe is magnificent, and despite being hollow it still grow new leaves each year. I visit and hug this tree at least once a year.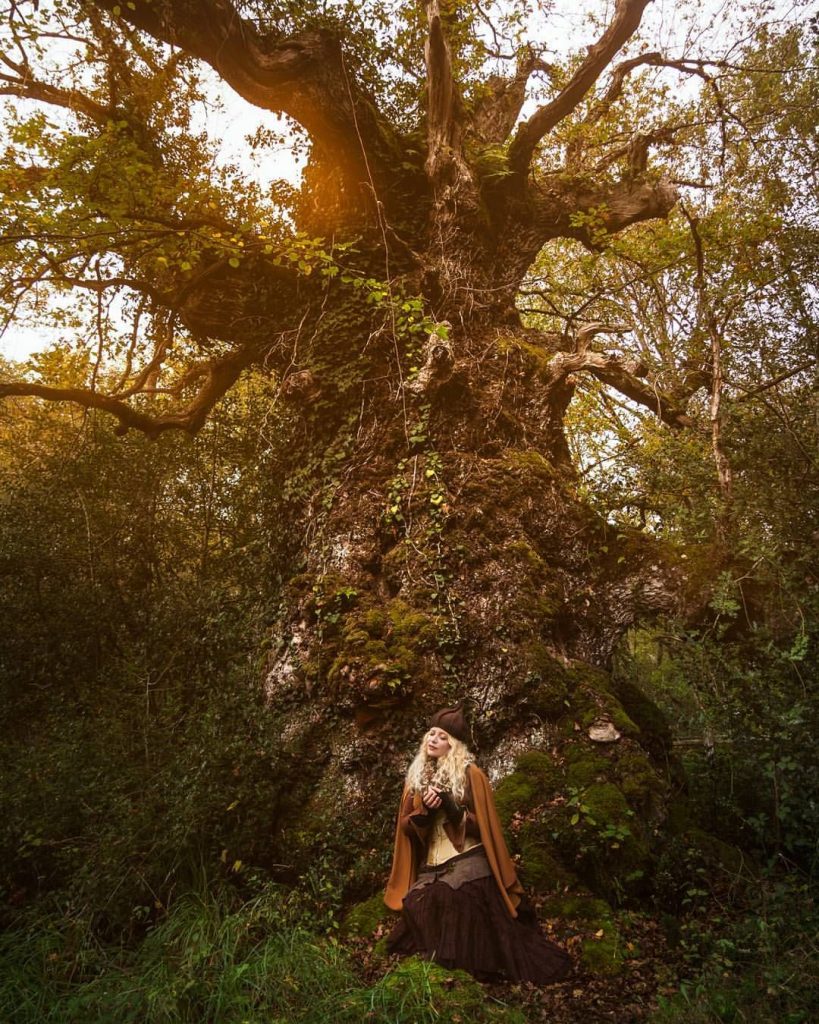 Tree Spirits in other cultures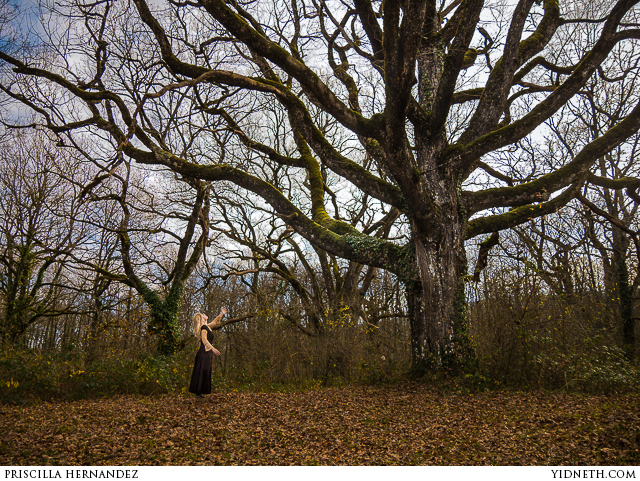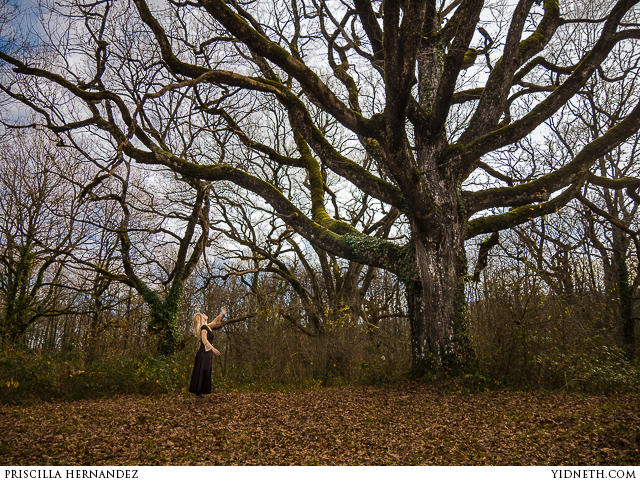 Tree worship has existed since Ancient Times from the Mythical Yggdrasil that connects the different worlds in Norse Mythology.
All over Europe trees would be worshipped Wreaths and ribbons tied to their branches to ask for health ad wealth.
In some countries a tree is planted when a baby is born to cast away evil and misfortune and also as a protector and spirit guide.
In the XV century in the Black forests of Germany it was said that the tree spirits would protect the woods and could be heard loudly on stormy days. Travelers would carve their walking sticks in the shape of these spirits for good luck as a way to have a "safe passage" through the woods.
In Japan the tree spirits are known as "kodamas" (like in the movie Princess Mononoke). Cutting down a tree inhabited by a Kodama will bring bad luck and misfortune, thus if an old tree is suspected to have one it is marked with a "shimenawa" rope that's used to mark sacred and pure spaces like shrines (or haunted trees that should not be disturbed). It is said that the kodamas will moan if the trees are withering or if the forest is endangered.
In Sweden these forest spirits are called Skogsrå and look like a beautiful maiden from the point of view, but from the back they are like a hollow trunk, and they would either bring fortune or lure and lead unfortunate travelers astray. In Norway they are known as Huldra, and though seemingly benevolent they could lure wanderers to follow her into the forest.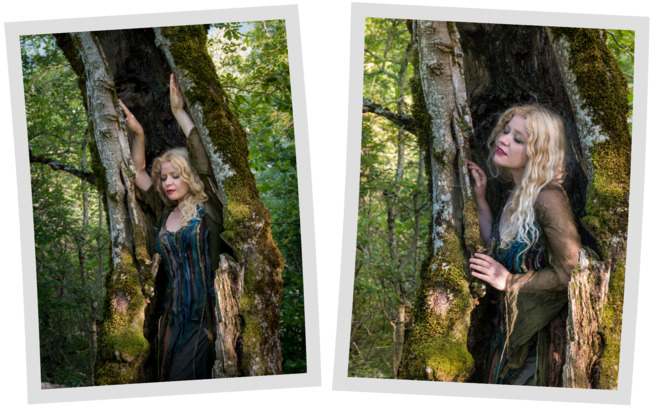 In China there are creatures that has evolved from the essence of wood called Penghou and they usually look like animals.
Sentinel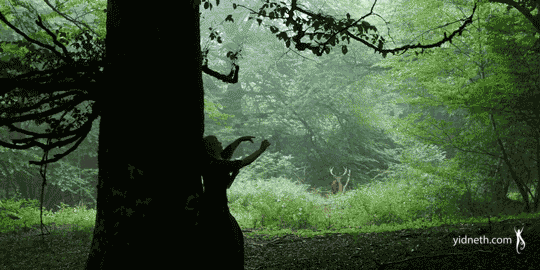 As for me, the idea of Nature having a spirit to protect itself is a romantic one… In fact I wrote a song called "The Sentinel" very much inspired in this sentiment that will be included in "Fear no More"
I will keep all your secrets
and I'll become your guardian
Your Sentinel