This is my own and new TRIBUTE COVER of prequel series DARK CRYSTAL AGE OF RESISTANCE main theme composed by Daniel Pemberton. The series premiered last August but mylove for the original movie is from tender childhood. In fact… another Dark Crystal cover Pris? I'm not finished yet… This is my THIRD and a fourth (All Maudra Song) is in the making. Stay tuned!
This version was entirely performed and arranged by myself using different folk instruments like bowed psaltery, dulcimer, hammered dulcimer, piano, kalimba, small percussions and flutes among others. The recording is also available at my patreon, where I'm posting this candid tributes and covers.
I have always been a big fan of all Henson works from Dark Crystal to Fraggle Rock.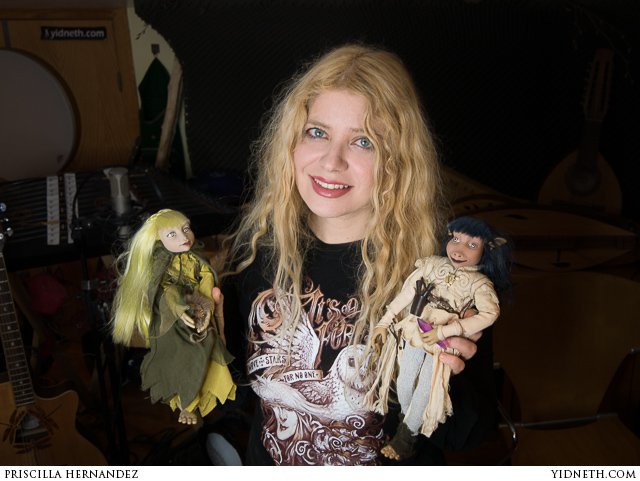 If you know Jim Henson's Works (Dark Crystal, Labyrinth, Fraggle Rock, The Muppets, Sesame Street, The Storyteller and more) tell me which one is your favourite.
If you haven't watched this movie the Dark Crystal movie from 1982 (first movie with no human characters) directed by Jim Henson (hero of my childhood) and Frank Oz, and for me the best fantasy movie ever made. I grew up as a child collecting the figures and books, and I've crossed several times paths with the team of artists that worked in the original movie, but I was not not prepared for my favourite movie to be back at the spotlight… so many things I can't afford now LOL I won't be able to catch up with merchandising anymore 🙂
Back in the day it was a flop, it was a very expensive project that faced for the first time how to create an entire world without the computer graphics that exist today. The whole movie is an ode to pupeteering and practical effects like no other. Water tanks with ink were used for the skies, matte painting on glass for the landscapes, and every single plant, animal, rock and detail was done to be a world out of our own and still very "earthy"
This Cover is the main theme of the new series and my version dedicated to all the team of artists that bring the world of Thra to life and of course congratulations to Daniel Pemberton for creating memorable new music for my all time favourite Universe. As a purist of the original movie I was excited about the new series but also scared. It satisfied my expectations and more 🙂 Even if I will be always a devoted fan of the original movie, the new series expands the folklore about a world I grew up to love as a child.
Making Of
My previous Dark Crystal Cover was all outdoors in Nature, this one is indoors at the studio, using purple leds, a smoke machine and props to mimic the atmosphere inside the Skeksis castle. I choked a bit on so much smoke but I think it looked rather magical at the end and very fitting with the looks of the series.
Cosplay
I tried to mimic the Gefling Deet, she is a Grottan that lives in the caves. She is very sweet and very connected to Earth and its creatures. She often carries glowing lichens and moss and she is (spoiler) affected by darkening. All the Darkening in the series is represented by the "purple" hues of the once clear Crystal of Truth that has been split and broken by the cruel Skeksis.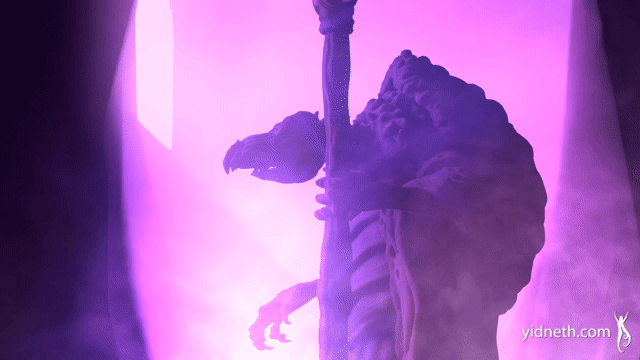 Above: The Dark Crystal is a tale balance between our light and shadows. Astral creatures called the Urskeks are fragmented into evil vicious Skeksis and Gentle but passive Mystics as the Crystal of Truth was cracked and darkened. Nether one nor another are even or complete. The whole arch in the series and later in the movie is to "HEAL" back together what was broken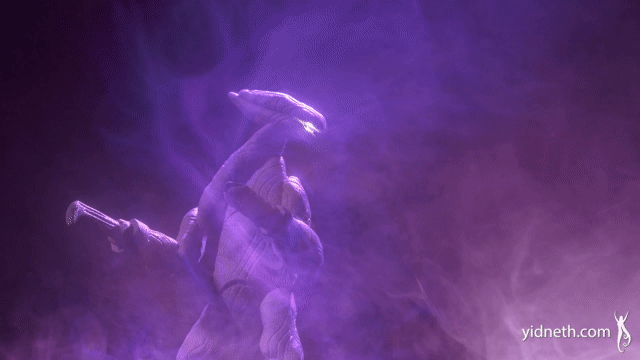 Above: Lore one of the "new characters" in the series but originally envisioned by Jim Henson inspired by the Devon rocky landscapes. He (It) makes a little cameo in my video.
Note. thank you very much to Héctor Corcín for rendering the 3d parts to composite in my video and for your help in the post-production of the video. Thanks for your partnership and help always.
Recording the audio
As you have read in one of my recent posts I injured my hand not long ago and I'm not quite recovered… still I'm a stubborn determined person so I managed to finish this. So for me there is even much more effort than the one that is shown, and overcoming frustrations when I couldn't play as well as I wanted to. It's not perfect but I think that's part of the charm too, that it is kind of rustic as the instruments that were used.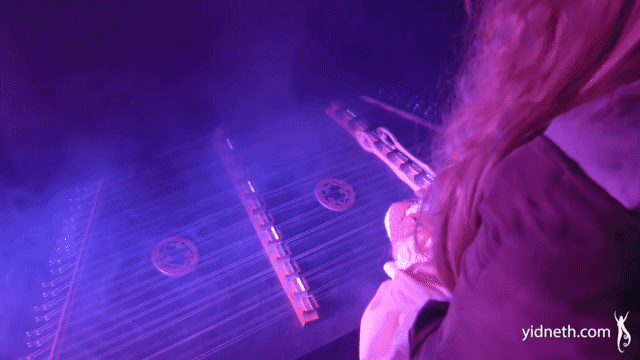 Above: Me playing "hammered dulcimer". If you are familiar with my discord server you may have seen me rehearsing this with my sprained hand and a splint hahah 🙂
This instrument is also known as Santoos. Instead of being plucked the strings are hit percussively with "hammers" in the shape of spoons hence the name.
I also used my bowed psaltery (both plucked and bowed). This instrument has a very medieval-renaissance sound that was very fitting for the "vibe" I wanted to achieve.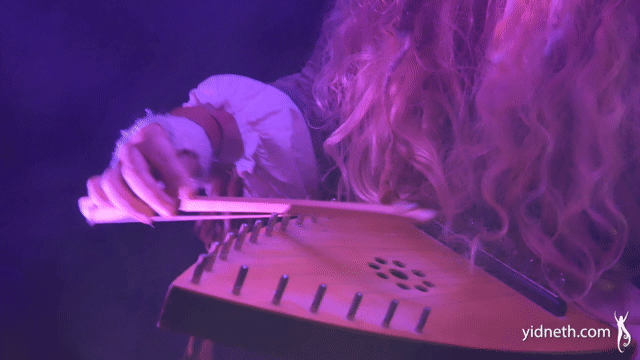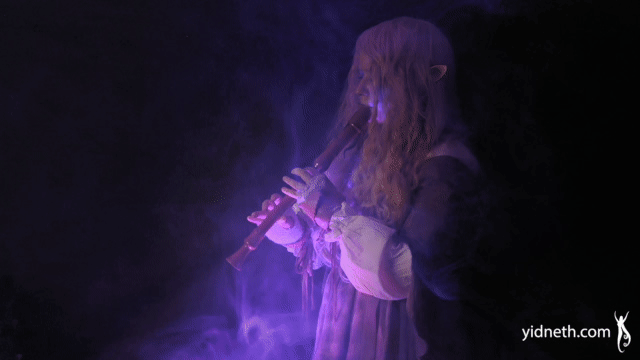 As always I added some flutes. This was a challenge with my injured hand (I feel like a super-hero) but I managed 🙂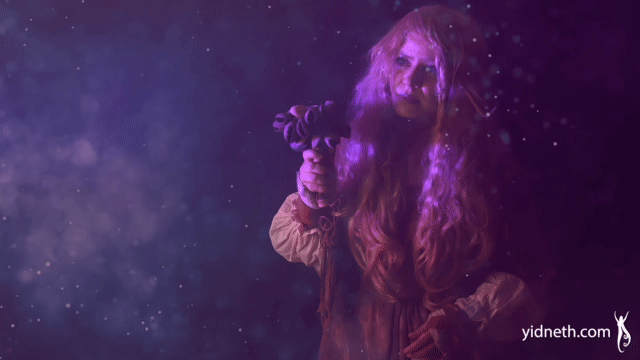 I also used small drums, gongs, bowls and shakers as percussion. Here with a seed shaker. I like this one because I wanted to use very "organic" and fantasy looking.

For the first time I included a kalimba or thumb piano. This was a recent gift from Héctor and this is the first time I feature it in a recording. (Yes Playing "thumb piano with a sprained thumb). Noone said I lack determination 🙂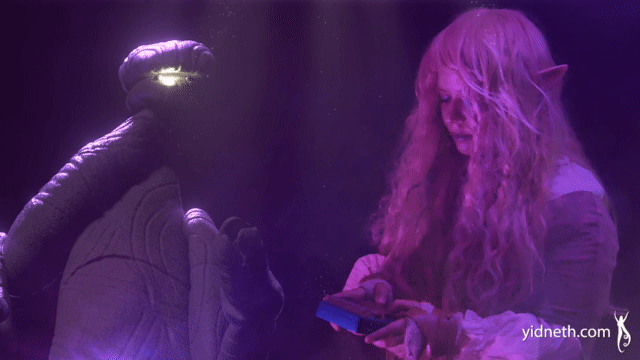 I also used bowed glass, piano and other instruments that are not shown in the edit. Overall a bit painfulbut fun. Of course I took breaks but I feel very accomplished.
And of course even if the original theme by Daniel Pemberton has no vocals I had to include some choirs because that is my signature to it. It's meant to be a candid tribute but also a personal reinterpretation.
Another world… Another time. Thra: A Wold created by Jim Henson and The Frouds
I have said it countless times… If there is someone I've always admired is Jim Henson and his legacy. You may remember previous posts with Dark Crystal and when I first started posting here a "Rainbow Connection" tribute.
My favourite film of all time is "The Dark Crystal" which is above all a story about "balance" that provided a solid foundation of principles
So first of all Happy Birthday Jim Henson…today he would have turned 83 years but he left us way to soon due to a pneumonia in 1990, way too soon.
My previous two Dark of Crystal tributes
As The Dark Crystal was such an important inspiration for me as a child I've recorded previously two other covers that I had shared previously.
Gelfling Song
Gelfling Song sung by Kira in the original movie (1982) here performed by me with just voice, double Ocarina and ambient sounds I recorded myself along with Héctor.
Jen Play His Pipes
24th of September. Happy birthday Jim Henson (1936-1990)
Today is Jim Henson's birthday… As you know yesterday I shared my third "Dark Crystal" tribute but it's only one of the many tributes to his work I've done. I will be forever grateful for all the magic, wisdom, lessons of kindness he taught me as a child through his work.
Jim Henson's works are about a rare wisdom, call it naive sometimes, but with a message that runs deep to the soul, to remind us there are things that matter, there are things we need to care about. Be good and honest, and everything will be all right. And all of this shaped me as a little child and made me become a better person. I am not the only one, I know of many others who were listening to these "lessons".
Whats´s so amazing that keeps us stargazing…?
He said once…
When I was young, my ambition was to be one of the people who made a difference in this world. My hope is to leave the world a little better for having been there. "― Jim Henson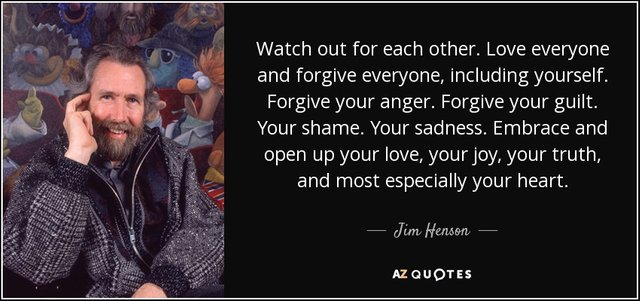 Image taken from AZquotes (they allow embedding). Click to see original source.
Indeed he did make the world better…
At least Mine…
Here another tribute to this wonderful genius and creator: A Rainbow Connection originally sung by Kermit the Frog, a character he created and interpreted until the day he died.
Curious fact:
When he died all puppeteers gathered to sing "If just one person believes in you"
If you ever need motivation look for "Jim henson Memorial"
And when all those people
Believe in you
Deep enough
And strong enough
Believe in you
Hard enough
And long enough
It stands to reason
You yourself will start to see
What everybody sees in you
And maybe even you
Can believe in you, too
Thank you for your legacy…
With gratitude!
My Network
Networks
Priscilla Hernandez
singer-songwriter & illustrator
http://yidneth.com