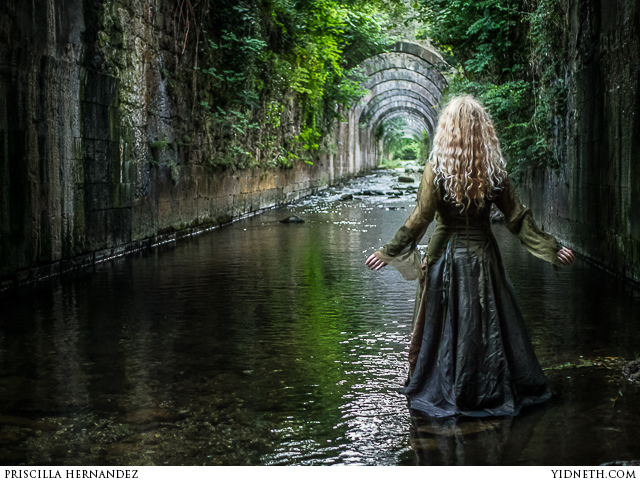 Nature can transform everything… even an industrial munition factory into a fantasy scenery… A little imagination can wipe out the ugliness and transform it into an enchanted location.
As I mentioned in my recent article, I have a fondness for ruins and abandoned places. I find them very eerie but melancholic and romantic… I think places are haunted by desolation and disuse but in some cases they are transformed into something magical when overgrown Nature claims them back and this is the case of Orbaizeta.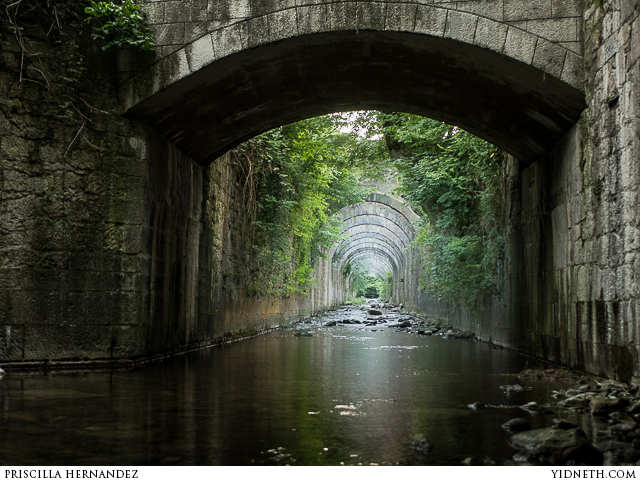 Above: Orbaizeta archs. My photo entry to the contest. Archs over Irati River (Navarre, Spain)
Orbaizeta is a village located in Aezkoa Valley (Navarre, North of Spain) about 5 Km away from the French Border where you can find the remains of the XVIII century Royal Factory of Arms and Munitions of Orbaizeta
It was in fact built over a XV century old forge located over Irati river.
The whole place is now abandoned and taken over by Nature. It is located over Irati River and by Irati forest, one of the largest beech woods in Europe. The factory was precisely built here to use its wood and water after the older Royal Munition factory (Eugi, also located in Navarre) run out of resources due to over exploitation.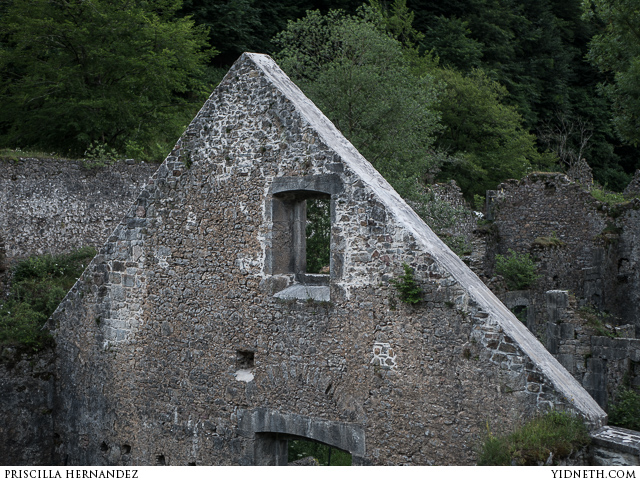 For almost a hundred years it provided munition and supplies to the army, iron and lead and even canyon balls, but it felt into disuse after the death of the Spanish king Carlos III . As it was very close to the border the site was frequently pillaged and caught fire many times to finally be shut down and abandoned in 1873. The ruins have since been covered by moss, lichens and vines. The main structure still stands and has been declared Site of Cultural Interest.
The place was overrun with trees and has become shelter for small animals. The archs that remain mostly intact over the river look now the remnants of an ancient Elven Fortress out of the pages of a Tolkien's book.
Below: Me in these damp mossy ruins… I love when Nature claims abandoned places back. Despite its not very romantic origins and industrial function the actual ruins have been strikingly transformed by Nature into fantasy Elven Halls… A magic portal to a fantasy realm… This is what they are NOW for me.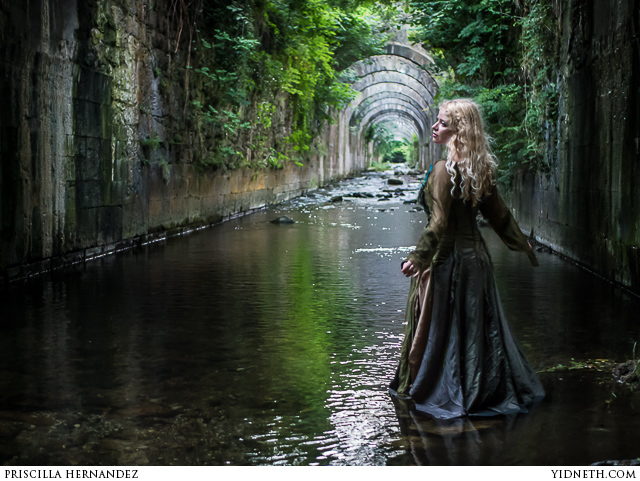 Enigmatic and now almost mystical looking, it stirs with new life… as birds perch on the scattered trees, lizards lay on its stone seeking the warmth of sun and little voles hide in the bushes. A recovery process is now under way but somehow I think there is a romantic vibe of the place engulfed by overgrown vegetation. Some years ago when Héctor and me visited this location you could access and walk it entirely but after a few accidents due to the decay of the structures the place has very limited public access now until being restored.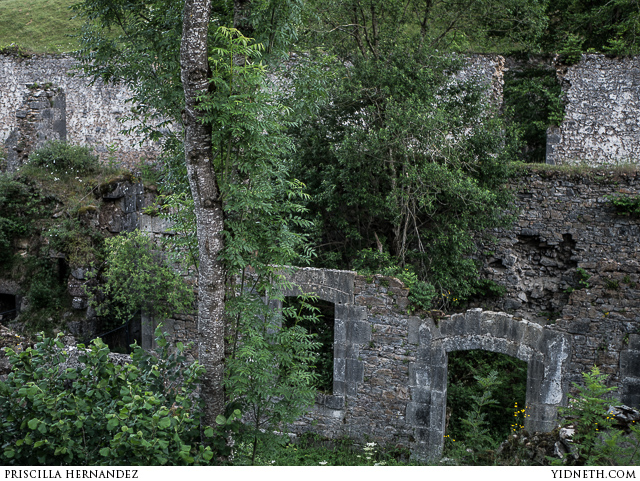 Black Legends about Orbaizeta
Its otherworldly eerie aspect reminds me to a distant past or maybe even a dystopian greenpunk future. It's not strange many claim it is haunted. A common target in several wars (as a factory of guns close to France) it was sacked and burnt out several times… And that violent imprint stayed in the minds of many tainted its memory. The place has a mysterious aura and it has inspired several local novels, mostly modern thrillers and mystery like "The Factory of the Shadows" by Ibon Martín which begins with a girl hanging from the archs on a misty night and the research of the case. Curiously after being chosen as background of these murder the skull of a missing hiker was found in its surroundings causing great stir on the national press. All of these has impregnated the place with darker tones but the truth is that it's rather peaceful and the way the light is filtered through the plants and is cast over the river is really entrancing.
Eugi, an even older munition factory in the same province
There is another old munitions factory, very similar but older and smaller in size even closer to me called Eugi, it features the same structure, with archs over a river. But I will cover it in another article, there I have made too countless photo shoots and even filmed part of my music video Off the Lane. The Eugi factory when active exhausted the forest around it and that is why the Orbaizeta was built.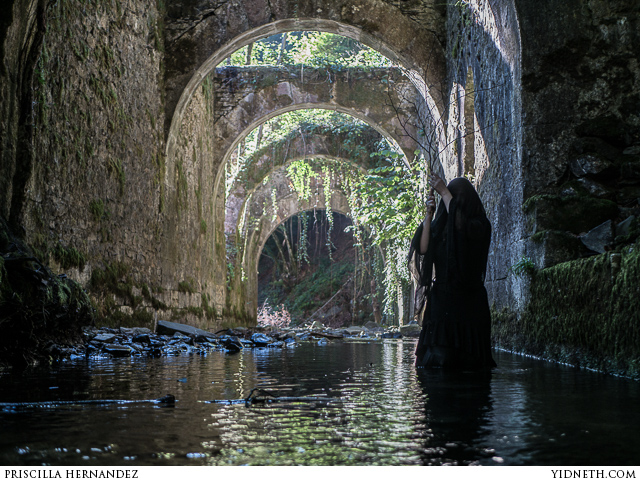 Above: One picture from last Summer taken in Eugi Factory, a smaller (and older) "replica" of Orbaizeta but located in Quinto Real Forest and over Arga River. I only post this picture so you can see the similar structure though humbler in size. I will cover Eugi in another article in the near future.
Conclusion: One with Nature
As a Nature Lover I am glad to see the woods around both factories now recovered, both rivers now hyaline and crystalline and its ugly original purpose of Royal Munition factories long time gone… Their structures are engulfed and becoming one in the forest… It reminds me to the movie "The Princess Mononoke" by Hayao Miyazaki, that tells precisely the story of a munitions factory destroying the forest and finally claimed back by its guardian. The outcome is almost the same. Though there are now some programs for the preservation of the ruins they lay now in perfect harmony with the environment. They are places full of peace now surrounded by slender beech trees and gurgling creeks.And with a little bit of imagination… these former human constructions are now almost magical
All pictures (c) to Priscilla Hernandez