It´s so cold when North Winds blow
bringing hail and pearls of frost
That´s the way that you do chill me to the bone
(Lyrics from my song Flame)
In Spain there is a beautiful world, "Cencellada", for this particular meteorological event. I think the English translation would be "rime". It happens when it's misty and Temperature drops drastically and the water vapor and droplets in the fog freeze quickly. The result looks like if everything has magically turned into ice, a glass-looking forest covered in fragile frost needles and scales (sometimes showing the direction in which the wind blows), and trees turn absolutely white as if made of standing snow… It looks magical and so ethereal.Gauzy and Fragile like thin ice (from my song Ethereal)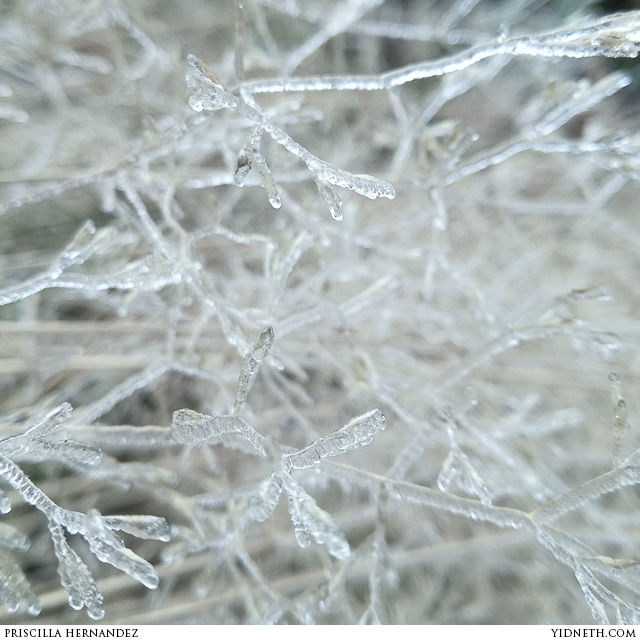 As you know as a fantasy musician and illustrator I also find inspiration and enjoy doing fantasy photo shoots. It was the first day of 2017 and despite being extremely cold Héctor and I wanted to celebrate doing what we love the most, hiking out int he Wilderness. We usually work as a team, he enjoys scenery and landscape photography and I love to dress up in fantasy costumes (as my music and art is inspired by fantasy and fairy tales). So as we drove up the mountains everything started to transform, the mist vanished and pale, white slender beech trees loomed out as we entered into a "Frozen World".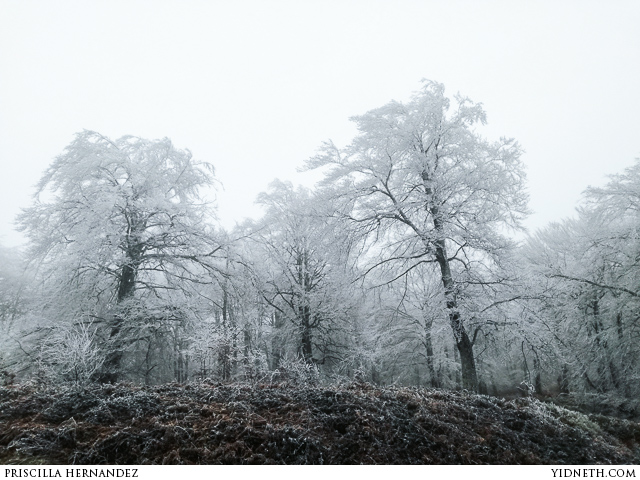 What we found was even more rare and especial, and this is likely one of my favourite photoshoots ever. I hope you feel the magic of the moment too through them. I have never shared them "together" day, so writing this blog post also was for me a lovely way to revisit a cherished memory.
-It is very cold. –@hedac said… Are you sure you want to go for it? (He knows I would reply "Of course")
It was bitter cold, -10 ºC and wind chill factor made it felt much lower. I am a person that takes baths in the river in late Winter so I can endure cold weather rather well but as I was undressing I felt it "cutting my skin". So there I was putting on a corset not wanting to miss the chance. I made the cloak and skirt myself. I had a white thin fabric I often use for my stage performances. I had been gifted a wonderful mask, crafted by Vincent Cantillon, and happened to have a white dress in the trunk of the car (as somehow we were expecting to find a place with snow). Lucky!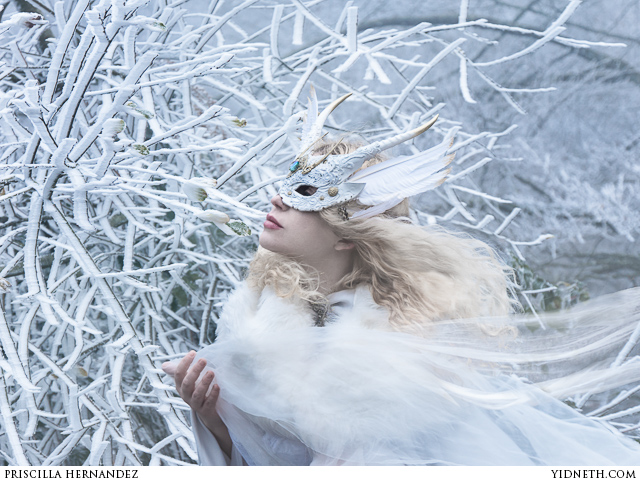 Wind lifted the veils in odd ghostly shapes. The word is haunting.
We took plenty of photos and lost track of time until there came a moment I felt my fingertips had hardened (literally) and went completely numb. I stopped feeling my hands entirely and I felt a slight trigger of alarm, so that was the moment to halt and go back to the car.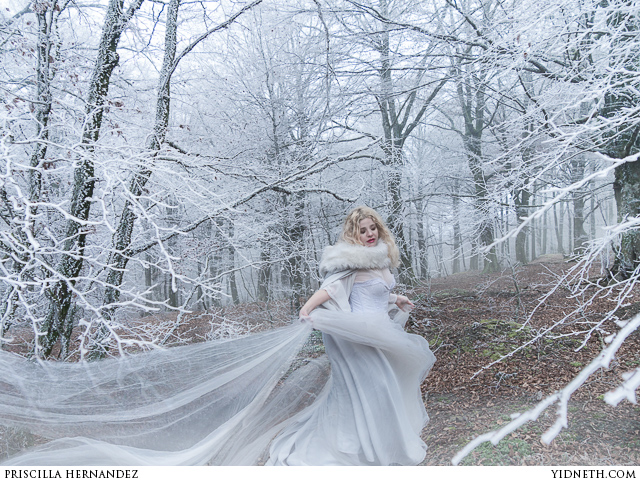 -"I can't fight the keys of the car" -Hector said as he started to look around and in his pockets.
I panicked a little and started to shiver. I had no coat or gloves. It took a little time until he did hahah and those were looooong minutes for me.
Below: A mosaic of "behind the scenes" and highlights all taken with my phone including me and my poor fingers! Happy and cozy after I had warmed up with the car´s heating and hot tea (A thermos flask is a must for this kind of adventures). I hope you find the photos worth. My hands did hurt quite a while but I love to have been able to be part of that fairy-tale moment.
After we were comforted we ventured up again to film some footage, and a blizzard compelled us to drive back home, but not before we could make some very dramatic videos for our music projects.
All pictures are taken with my phone except the ones I'm appearing in, that were taken in collaboration with @hedac and edited by myself. He took amazing shots that day as well that I hope he shares his too. Next one is also from my phone (not quite as spectacular as the ones he did but you can make an idea).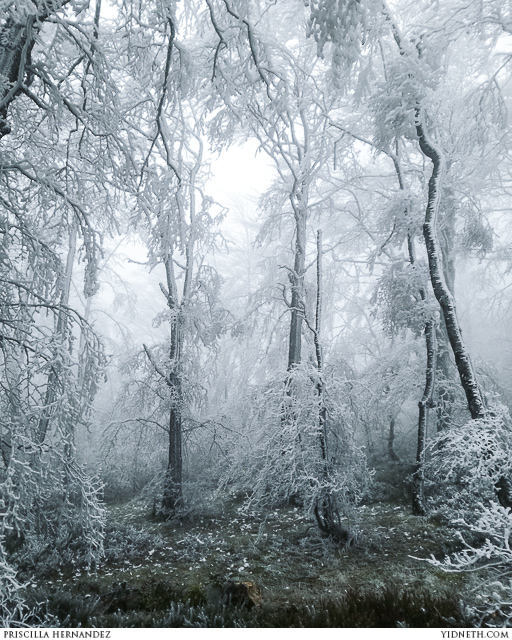 Since, we have been waiting for the weather to replicate this elusive meteorological event (rare in my region), to find again a door open into this magical Ice Frozen Woods. We visit the location in Navarre, Spain always shifting along with the seasons.